4xgoldkeys.com
June 11th, 2011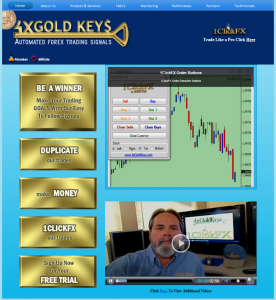 Forex Signal Service 4xGoldKeys – Review.
The 4xGoldKeys community of traders was formed a little over five years ago under the leadership of Doug Kyle and Brendan Duff.
A successful businessman and entrepreneur, Doug Kyle retired as a young man and turned his attention to trading Forex.  His many years in the market have made Doug a seasoned trader with an in-depth understanding of Forex. Hoping to share his unique way of trading the market, Doug began teaching the basics of Forex to friends. As word of Doug's straightforward method spread, our trading community rapidly grew to include members from across the country.
To meet the needs of the trading community, Doug and Brendan developed the 4xGoldKeys Signals to offer a finite trading strategy.
Trading pairs: EUR/USD, GBP/USD.
How many 4xGoldKeys trades are there each day: 3 or more trades per each trading session.
Mentoring Package: All those who subscribe to the 4xGoldKeys Signals will receive a coupon good for one entry during the Mentoring selection period at the first of the month. A limited number of slots will be available on a first-come basis.
Website: www.4xgoldkeys.com
Leave a Reply