Forex Strategy "Big Dog + Fibo"
September 13th, 2010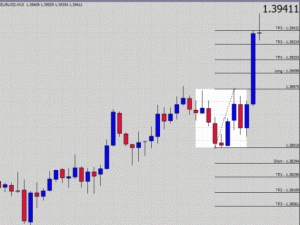 Forex Strategy "Big Dog + Fibo" – an updated version of a simple breakdown strategy forex Big Dog – it just has no indicators and trade only need a few graphical representations and an instrument of "Fibonacci" ( Fibo ), which is now due to be installed orders and fixing them.
You must perform the following construction:
1. Choose M15 chart pair EURUSD.
2. Similarly, draws a box:
- A –  vertical lines on at 12:00 GMT and 14:00 in GMT.
- B –  horizontal lines – on the highest price in this time interval and a horizontal line at the lowest price in receiving coverage time frame.
3. Change the max clip tool Metatrader 4 – "Fibonacci Line" and in Properties Fibo set the following levels: 0.000, 1.000, 1.272, 1.500, 1.764 and 2.000
4. Now on our "box" Stretch 2 times Fibonacci – 1 st from maximum to minimum of the box and the 2-nd – from minimum to maximum.
= Having done all the constructions will turn around this picture =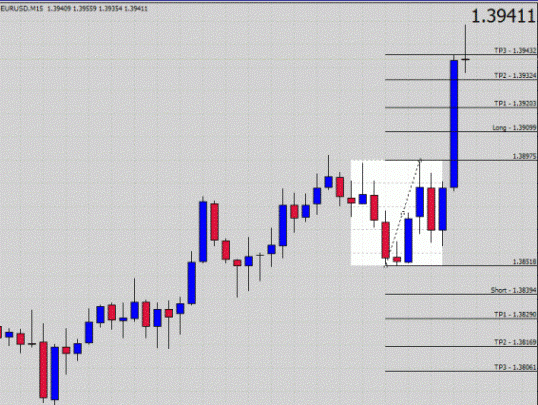 Set the type of pending orders Buy Stop and Sell Stop ( to 3 on each side formed boxes – in equal parts ) on the levels of 1.272.
Take-profit respectively:
- TP1 – on the level of 1.500.
- TP2 – the level of 1.764.
- TP1 – on the level of 2.000.
Stop-loss places a level of 1.000!
= The example in picture =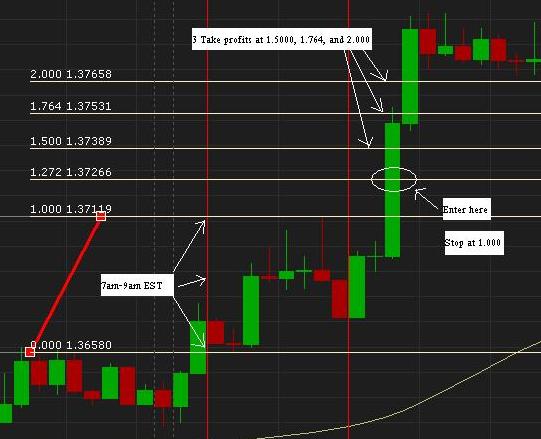 - After the first order closed with profit – the rest reinstall in the "zero" level. After the closure of the second with a profit – swap the 3rd to the level of the opening of the 2 nd ( ie 1.764 ).
- When firing deals Buy – cancels Sell and vice versa: when you open warrants Sell – cancels Buy.
- If no deal had not been opened prior to the construction of the next frame ( before 12.00 GMT ), then all the warrants are removed.
Forex Strategy "Big Dog + Fibo"

,
Leave a Reply