Forex Strategy "Panca Eagle"
September 14th, 2010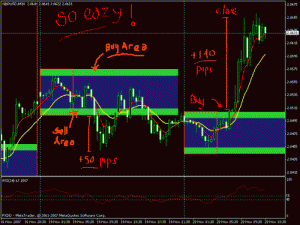 Panca Eagle Indicators – strategy Forex basically a method for determing support and resistance breakouts.
The Forex  idea of this strategy is to determine previous range and take trading opportunities once the box is broken ( with borders acting as support and resistance areas ) using as a trigger the breaks above and below that range…
= Indicators Panca Eagle is simple enough to understand. It is not complicated to use; we just simply have to wait for a breakout above or below the green zone. As such, it requires no special skills in order to use it  =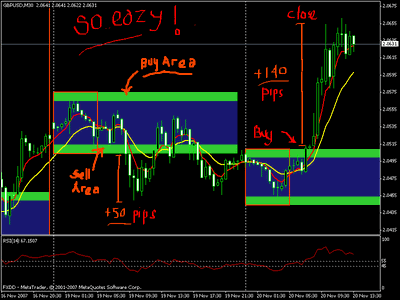 What you need:
1. Any pairs ( GBP/JPY  and EUR/USD recommended )
2.  Timeframe: 30M – Panca Eagle Indicators
3.  EMA 5 (red line) and EMA 13 ( yellow line ).
4.  RSI 14 level 45 – 55.
5. Toptrend Indicators to avoid false signal.
Panca-Eagle Break Out Strategy rules:
1. Trading Hour: You have to wait for the bars to get past the red box before you place an order at 10.30-21.00 WIB ( GMT +7 ) in TF :30 Minute.
2. Only 1 Buy & 1 Sell.
3. No More Than 5-10% Equity each open trade.
4. Minimum Take Profit = +10 pips for GU or GJ Pips protect, secure + 10 pips when your running profit +30 Trailing Stop 15 pips ( optional ).
5. You can use Pending Order : TP 30 and SL 30 , Buy and Sell at Green Area After past the Box. But Recommended If You use instant execution.
6. How To Entry:
Buy:
- The price enter upper box green area after past the red Box
- EMA 5 (red line) Upper EMA 13 (yellow line)
- RSI above 55 level
Sell:
- The price enter bottom box green area after past the red box
- EMA 5 (red line) Below EMA 13 (yellow line)
- RSI below 45 level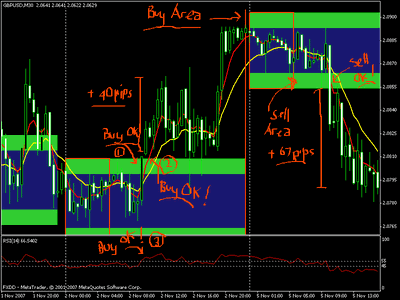 To Avoid False Signal, Before entering the market all signal must confirm with Toptrend  Indicator. Only doing sell position  if Toptrend Indicator is red and above price. And reverse only doing buy if Toptrend Indicator  is BLUE and below price.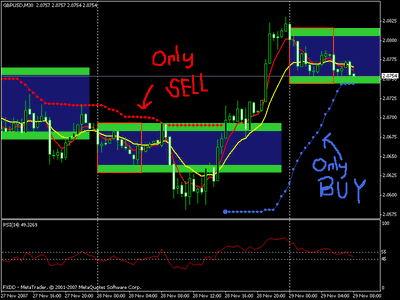 !!!
-  Make sure and always confirm your action (buy/sell) with Trend Indicator (You can combine with your trend indicator). To help you avoid whipsaws.
-  Recommended to apply PIPSLOCK or TRAILING-STOP example : pipslock rules:
1.  Move your SL +5 after 20 pips profit
2.  Move your SL +10 after 30 pips profit
3.  Move your SL +20 after 40 pips profit
4.  Move your SL +30 after 60 pips profit etc.
- Practice in demo account first to use pipslock –  you can set pipslock according to your experience to protect your pips and you can use 10-15 pips trailing stop.
- When current price is near buy/sell area, you shouldn't do pending order. But if current price in middle of red box , You can put pending order with 15 pips Trailing Stop. But instant execution buy/sell, It's recommended and for better result.
Forex Strategy "Panca Eagle"

,
Leave a Reply